The Roanoke Times
Saturday, November 25, 2006
By Pamela J. Podger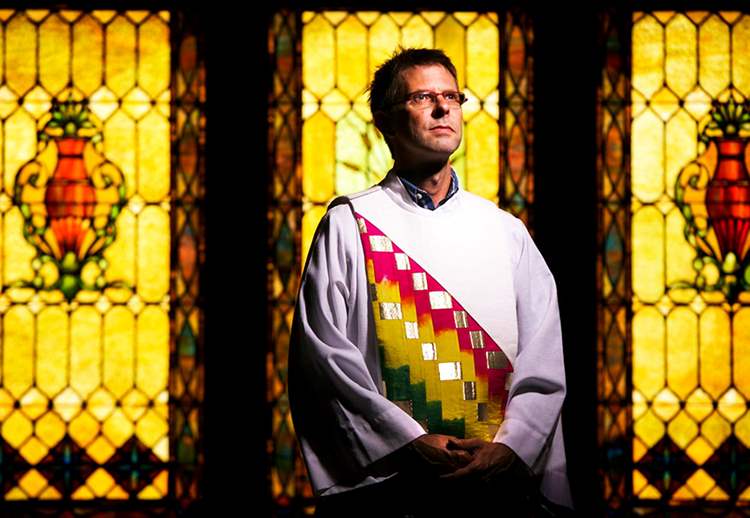 For years, Joe Cobb wrestled with the outlaw living inside him.
It kicked up a fuss when he married a woman he met in seminary. It screamed silently when he was ordained a minister in the United Methodist Church. It argued bitterly when he kept his sexuality a secret.
Part of him was always banished and hidden. From himself. From those who knew him best. He feared losing everything -- his family, his children, his church -- if he lived openly. Except the outlaw wouldn't be silenced.
"There's always been that nonconformist part of me. This was such an internal struggle," Cobb said. "I was married and it was very core to my existence."
Finally, one night, he told his family everything. He was gay.
"I'm sharing this because it is an essential part of who I am," Cobb recalled telling them. "There were understandably tears and anger and frustration -- all those emotions that people go through. But there was deep and abiding love within all that. I know that is not the case for a lot of people who come out. It is the complete opposite."
For Cobb, a newly ordained minister and Kansas native who grew up reading "The Wizard of Oz," there really is no place like home.
More than a house or community, his home is the church.
On Oct. 8, Cobb knelt on a pillow before about 150 guests at the Metropolitan Community Church of the Blue Ridge during his ordination. The church is celebrating its 20th anniversary Dec. 3 and rejoicing in training and raising up its first member as a minister.
On his knees, Cobb told the group the pillow was similar to a cushion he cowered behind as a young boy when monkeys and the Wicked Witch of the West flew across his Wichita television screen.
As the years passed, he encountered greater fears -- ones harder to spot than witches and winged monkeys.
"I can be ordained officially in this denomination," he said. "And in others, it would be a scandal."
When Cobb was a freshman at Southwestern College in Winfield, Kan., he led a youth group twice a month at a small church surrounded by farm fields. One winter day, at a church meeting where the floors creaked and radiators popped, Cobb felt called to the ministry.
"I was aware of what was going on, but suddenly was very focused on my interior and my heart," he said. "It was a moment when I felt such focus and direction."
He rushed back to his dorm room and wrote a letter to his hometown preacher, a Methodist minister who let Cobb lead prayers and light altar candles back when he was 12. Cobb went to choir practice with his father every Wednesday night, he begged to be on church committees.
"I loved the church so much," he said. "It was a place for people to know they are beloved, loved and can engage in God, in a power beyond themselves, and make a difference for themselves and for the community. It was a place to belong."
Cobb switched his college major from music to philosophy, and in 1983 graduated with a bachelor's degree in just three years.
"At play in all of this, I was also in my adolescent years and really coming in tune to my sexual orientation. I started struggling with it," said Cobb, now 44. "In everything that I had heard, the church wasn't particularly welcoming of homosexuality."
Cobb began his seminary training at Southern Methodist University in Dallas. It was there, at age 22, he fell in love with the woman who would become his wife.
"At that time, I knew that I couldn't be openly gay and serve in the United Methodist church. Even then, it was enough of a hotbed issue. Even to explore my gay sexuality, it would have to be done very secretly," he said. "When I met her and fell in love and saw how much our spirits and lives complemented each other, it seemed like a very natural thing.
"Later, when we talked about it, we knew if we had the wisdom and maturity to talk it about it honestly, we would have approached it very differently," he reflected.
They had a son and a daughter. Working at Methodist churches, they lived in Texas, Kansas and England. Then, after 13 years of marriage, they divorced in 1999. His former wife, a Methodist minister who declined an interview for this article, moved to the Blacksburg area.
"She is such a significant part of my life and has been, even through the difficulties of having a spouse come out as gay," Cobb said. "She's been incredibly supportive."
Before moving to Roanoke in 2001 to be closer to her and their two children, Cobb relinquished his credentials to Methodist Bishop Fritz Mutti in Topeka, Kan.
"Those certificates were part of my sacred journey. From my hand to another, I wanted to be able to say 'This isn't something that I'm doing lightly.' He was very graceful through that and it helped."
Cobb let himself grieve and heal, leaving a church that he had grown up in and finding another ministry. Cobb currently works as the executive director of the Interfaith Hospitality Network, a group of 29 congregations that provide meals and temporary housing for homeless families in the Roanoke Valley. He also freelances for The Roanoke Times.
His mother, Marilyn Cobb, shed tears of joy when he renewed his call to the ministry at the Metropolitan Community Church, a predominantly gay and lesbian church. She and her husband, William, drove for three days to be at the ordination. The couple adopted four unrelated children, including Joe, the eldest.
"When they took his credentials away, they took his livelihood away. It really bothered me," she said. "This is kind of like putting everything back together again."
Dancing Together
Standing on the church dais, the Rev. Catherine Houchins of the Metropolitan Community Church describes Cobb's ordination as "a momentous time."
"I believe Joe was ordained before he came to us," she said. "I believe Joe was ordained when he was just a glimmer in God's eye."
His ordination was a series of six acts, drawing on the traditions of drama and Christianity. He'll be able to administer two sacraments -- baptism and Holy Communion -- as well as other rites. At the event, poems, hymns, duets and songs sung by Cobb's children were interspersed with laughter and tears.
At the celebration, Cobb said he was only "partially present" when he had been ordained in 1991 in the United Methodist Church. But at the MCC ordination, he said he felt authentic, whole, integrated.
"For me to look at my life as a dance, finally my sexuality and my spirituality are dancing together. They are not dancing in separate rooms or across the room from each other. They are dancing together," Cobb said. "And it has taken many years for that to be true."
Houchins was joined by three other ministers, influential friends in Cobb's life, who asked him to make promises in his future as a minister. Those Methodist and retired Episcopal ministers said they had misgivings with their denominational stances toward gay clergy.
"I'm stunned at how painful the process is for many ministers in the United Methodist Church who've had to lay down their orders or are forced to live a closeted life," said the Rev. Laura Benson, who works for an agency that runs emergency and transitional housing in Raleigh, N.C. "While acknowledging his pain, this [MCC] church is recognizing his gifts and graces."
In part, the service was a return to Cobb's calling. "There are lots of moments in our lives that define us," he said. "There are even more moments when we can define what our lives will be."
Cobb received a Bible, a stole, a pitcher, a chalice and other items. One friend surprised Cobb with a gift of a pair of glittery red shoes -- similar to those worn by Judy Garland in "The Wizard of Oz."
Work colleagues, family members and Cobb's partner, James Matthews, also presented him with gifts.
"The service was his moment to shine," said Matthews, 44, a radiologist. "It's healing in some small way and is fixing, a little bit, what was broken."
Houchins invited all ministers who were in the audience to lay hands on Cobb, reinforcing the "divine spark" and their collective belief on God's call on his life.
Nancy Lynn Kisner, his sister, flew out early to help prepare for the ordination.
"It makes it richer and more meaningful to answer the call twice in one lifetime," Kisner said. "Or maybe Joe was answering the original call that was always there."
According to the Rev. Stephen Stanley, associate pastor at Christ Episcopal Church in Roanoke, "You can boil down the Gospel to two words: Everyone belongs."
Cobb's former wife, sitting in the front row with their children, embraced him for a long while after the ceremony.
Both wept.
Freelance Writing, Editing & Storytelling
Compelling and accurate narrative
Writing. Done. Right.