Former Company Town Faces Uncertain Future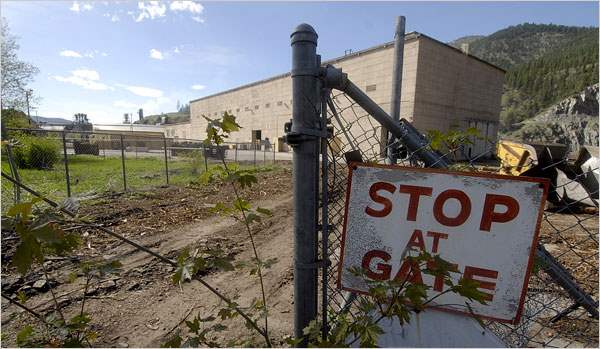 BONNER, Mont. — For the past century, residents here have known two constants. They worked at the local lumber mill, where a seemingly endless supply of timber from the mountains kept saws whirring. And they played at the Milltown Reservoir, fishing and swimming behind a dam that was built at the confluence of the Clark Fork and Blackfoot Rivers to supply electricity to the mill.
Now the mill has closed, the dam is being torn down and a multimillionaire developer from Missoula, Mont., Scott Cooney, is buying up Bonner, one of the nation's last company towns.
The changes — social, economic and environmental — are turning "everyone's world upside down," said Amanda Henderson, 25, whose husband, Mike, was laid off from the mill.
"Some changes can be for the better," Ms. Henderson said. "But with the mill gone, there isn't a whole lot out here."
Mr. Cooney said he planned to transform this unincorporated working-class community of several hundred residents into a modern "Mayberry R.F.D.," with new and renovated homes, upscale shops and "green" manufacturers along the Blackfoot River, which Norman Maclean made famous in his fly-fishing novel "A River Runs Through It."
"I'd like to take the cyclical nature of the wood-products industry out of here and give people consistent economic engines for the next 100 years," Mr. Cooney said.
He has been working with residents to retain some of Bonner's timber heritage, including reusing hand-hewn timbers from the dam for homes and other new buildings. He also says he wants Bonner to remain affordable, with new homes ranging from $80,000 to $250,000 and current residents given the first chance to buy the renovated mill homes.
Still, many residents worry that Mr. Cooney is trying to create a wealthy playground like Coeur d'Alene or Sandpoint in Idaho. He has raised monthly rents on the older mill homes to $650, from $450, despite peeling paint, cheap sawdust insulation and moss that blankets some roofs. Winter heating bills run as high as $400 a month, forcing some residents to cover drafty windows with bubble wrap.
Gary Caluori is a single father who worked at the mill for 15 years, has lived in several company homes and would like to buy one, but he said he was struggling just to pay the rent.
"People don't like Cooney jacking up the rent, and they worry about what he might do here," Mr. Caluori said. "People want Bonner to stay small. We don't want the community to grow."
Another longtime worker at the plant, Gary Tobol, has raised four children with his wife, Sandra, in a mill house. "It has been a one-company town for so long," Mr. Tobol said. "Everything rises or falls with the economies of the logging industry."
Since 1886, when the first log was cut, the Bonner mill has changed ownership several times and survived economic downturns. But the current owner, the Stimson Lumber Company, of Portland, Ore., decided recently to shut it down. Company officials cited the ailing housing market, foreign competition and declining timber prices.
"It's sad," said Jeff Webber, Stimson's vice president for manufacturing. "If a business can't stay competitive, then I'm not sure it's worth keeping it open."
Stimson sold all 42 company-owned houses for an undisclosed price to Mr. Cooney, who said he planned to restore the 1930s-era cottages and create a National Historic District along the tree-lined main street opposite the mill. He said he hoped to buy up the rest of Stimson's timber operations. This year, he bought a 116-acre log yard and wants to buy the company's remaining 155 acres.
Stimson officials would not comment on negotiations with Mr. Cooney, but Mr. Webber said the company had asked Gov. Brian Schweitzer to help find a manufacturer who could take over running the plant.
Most residents have never cashed a paycheck other than one from Stimson or its predecessors. They expressed hope that whoever acquired the mill would offer manufacturing jobs with wages to match those of Stimson, which paid $12 to $20 an hour.
Mr. Cooney said he envisioned light manufacturing operations having to do with solar and wind power, and specialty wood products. Ideally, he said, employers would offer workers perks like the free use of kayaks and mountain bikes for lunch-hour recreation.
Bonner retains a fierce community pride, but its once bustling character has been replaced by a forlorn air, a near-ghost town where the last few loads of logs outnumbered the few mill workers who remained when the plant shut down last month.
The Hendersons still live in one of the dilapidated mill houses, but Mr. Henderson has taken a job helping to demolish the Milltown Dam, part of the cleanup of one of the nation's largest Superfund complexes, a toxic legacy from the mining of copper and other heavy metals that took place in the area.
He has also hung a sign reading "Redneck Auto" outside his garage, hoping to make a few extra dollars as a shade-tree mechanic.
The Hendersons' neighbor Dawn Krueger, 53, described Bonner's current state as "all a jumble with families moving out and others trying to hang on without jobs."
"We're a small community," Ms. Krueger said, "and we're all getting torn apart."
Freelance Writing, Editing & Storytelling
Compelling and accurate narrative
Writing. Done. Right.